Celebrate Sunshine Week, March 13-19, 2011
Media are welcome to use the article, downloadable here at no charge, that was written by Nebraska Press Women board member Diane Wetzel specifically for Sunhine Week 2010. It recounts the important role that Nebraska played in the legal interpretation of the First Amendment. Because the article was written at the request of Nebraska Press Women in celebration of Sunshine Week 2010, we ask only that you give NPW credit in an editor's note. Thank you. --Ruth Brown, NPW president
Click here to DOWNLOAD "Your Right to Know" Sunshine Week article.
NPW and NFPW, an important partnership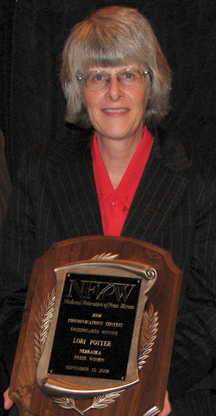 Nebraska Press Women are an important part of National Federation of Press Women - now more than ever:

Officers. NPW's own Lori Potter, Kearney Hub ag and natural resources reporter, is now first vice president of the national organization! In addition, Barb Micek of Fullerton, Nance County Journal editor, is the NFPW historian. We're proud of both and give them our full support.

Sweepstakes Award. Highlight of the 2008 NFPW convention in Idaho Springs, Idaho, was the presentation of the national communications contest Sweepstakes Award to Lori Potter (pictured left). Shocked though she was, Potter still managed to deliver an inspirational and motivational acceptance speech.

2011. NFPW accepted the joint bid from Nebraska Press Women and Iowa Press Women to host the 2011 NFPW Convention in Omaha/ Council Bluffs. Pre and Post convention tours will need to be planned as well as the convention program, so it will be a big job but a fun one as we work with our Iowa neighbors.