Persistence Pays: NPW gets bid
Nebraska Press Women was successful in its bid for the 2011 national convention, which NPW will co-host with Iowa Press Women. Persistence pays. NPW bid for the convention in 2006 as a way to celebrate the group's 60th anniversary. When the bid was turned down, the group tried to get the 2010 national convention, but lost it to Chicago. Hosting the convention in 2011 will provide an opportunity for NPW to celebrate its 65th year as an affiliate of the NFPW. To see more about the convention, click on Event Calendar.
President's Advisory Board Elects Officers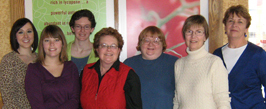 Two Kearney Hub reporters were elected to leadership positions on the NPW President's Advisory Council at the group's first meeting on Saturday, Jan. 17, in Grand Island. Sara Giboney was chosen to chair the group, and Betsy Friedrich was elected secretary. President Ruth Brown appointed the council to generate new ideas for the organization. Other members are Terri Hahn, Grand Island Independent feature editor; Glennis Nagel, UNK marketing director; Mary Pat Finn-Hoag, Norfolk Daily News ag editor; and Rita Brhel, Sutton freelance writer.