Two UNL students win NPW scholarships
Nebraska Press Women organization offers two scholarships each year to students studying journalism at Nebraska colleges and universities. The $500 Memorial Scholarship is supported by money donated to a scholarship trust fund. The $300 Excellence in Media Scholarship is supported by proceeds from NPW's annual Communications Contest. Click here for INFORMATION and APPLICATION forms.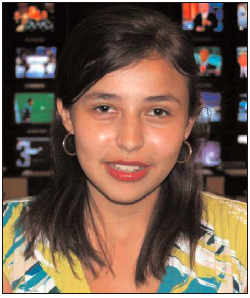 Jamie Klein, a University of Nebraska-Lincoln junior news editorial major from Papillion, was awarded the 2009-10 Nebraska Press Women Memorial Scholarship.
Klein's experience includes working for the Daily Nebraskan as well as summer internships at the Papillion Times and San Antonio Express-News. She is currently an intern with the Omaha World-Herald and was selected for an internship this summer with the Arkansas Democrat-Gazette. In addition, this summer Klein will travel to Zambia to participate in a science-writing project. Klein is the president of the UNL student chapter of Nebraska Press Women. Her nominator said she is a "gifted reporter and fluid writer" with good instincts and news judgment for her age.

The 2008 Excellence in Media Scholarship was awarded to Erin Starkebaum, a UNL sophomore news editorial major and native of Colorado.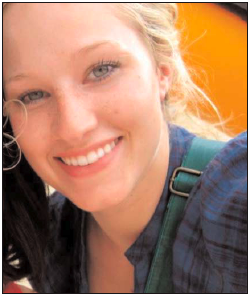 Starkebaum's passion is photography. She is a member of both the UNL student chapter of NPW and also the Photography Club. She contributed articles to the UNL Web site and participated in student reporting trips to daily newspapers which culminated in publication of her articles. This summer she, too, will travel to Zambia as part of a science-writing project. Starkebaum's nominator said she is a "first-rate reporter who pays scrupulous attention to details in her written work."

The two UNL students were selected from among a competitive group of applicants from both public and private colleges and universities.
For information on scholarships to be awarded in 2010-11, e-mail NPW scholarship director Barb Batie through the Contact Us page.
Recent winners of the NPW Memorial Scholarship include:
2009: Jamie Klein, University of Nebraska-Lincoln
2008: Skylar Osovski, Wayne State College
2006: Michelle Bishop, University of Nebraska-Omaha
2003: Jennifer Myers, Nebraska Wesleyan University
2001: Valeria R. Robert, University of Nebraska at Omaha
1999: Sarah Fox, University of Nebraska-Lincoln
1997: Stacy Rande, University of Nebraska-Lincoln
1996: Mary Woods, Chadron State College
1995: Melissa Dunne, University of Nebraska-Lincoln
Recent winners of the NPW Excellence in Media Scholarship include:
2009: Erin Starkebaum, University of Nebraska-Lincoln
2008: Sarah Thomsen, Wayne State College
2006: Linsey Marshall, University of Nebraska-Lincoln
2003: Amanda Sauder, Union College
2001: Tiffany Schmitz, Wayne State College
1999: Kristi Mehlhoff, Chadron State College
1997: Jessica Kennedy, University of Nebraska-Lincoln
1996: Becky Lagler, Chadron State College 1995: Rainbow Rowell, University of Nebraska-Lincoln